Executive Coaching
Executive Coaching for impactful leadership development 
supporting the co-creation of Better Business and a better future

EXECUTIVE COACHING
FOR EXPANDED CAPACITY AND IMPACT
Leading transformational change asks for you as a leader - not only to understand the world around you, and your organization - but also to go inside of yourself to get in touch with your own purpose, to elevate your perspectives and go beyond business as usual. 
Over a period of 12-24 months, Elisabet Lagerstedt partners with you to help you find your inner compass, expand your perspectives, capacity and impact for successful change across your organizational ecosystem, and beyond.
This is a process of one-to-one Executive Coaching for Vertical Leadership Development. It's optimally run as preparation for, or in parallel to, a strategic and transformational journey of your organization.
Why? Because leaders on a higher level of vertical development have been proven to be considerably more successful in orchestrating organization-wide and systemic transformations, as well as coping with a VUCA world. You could become one of those with the right coaching and support on the way.
WHY IS THIS SO CRITICAL?
YOU AS A BUSINESS LEADERS IS AN IMPORTANT KEY TO THE FUTURE
A wise, calm and strategic mind, insightful self-awareness, deep connection, and impactful change. Purpose-driven leaders and organizations partner with us to cultivate these essential qualities for expanded capacity and sustainable impact.
Vertical Leadership Development indeed has the proven capacity to catalyze quantum increases in mental capacity and complexity. This in turns helps navigate a VUCA world and co-create a future that we want.
Today, adult development and Vertical Leadership Development is becoming increasingly embraced by leading management thinkers and organizations, and is highlighted in many different publications. From Forbes, to the Journal of Values Based Leadership, the Journal of Leadership Education, to Integral Review, Integral Life and, of course Harvard Business Review.
A great white paper - and a must read - is also The Future of Leadership for Conscious Capitalism.

WHO DO WE NEED TO BECOME?
The big question is really who we need to become in order to co-create the future we want. In today's VUCA world - called "a perfect storm of increasing complexity, accelerating change, and near-constant uncertainty" - most leaders are hitting a mental and emotional glass ceiling. There is simply a  significant gap between the complexity of the task given, to that of their own mental wiring and capacity. Interestingly, higher levels of leadership action logics are within reach - and possible to develop for all of us.
We have found that Vertical Leadership Development is an important key to help open-minded and forward-thinking leaders elevate their perspectives, increase their positive impact, and move beyond business as usual. Ultimately to build a better business and a better future.
This is vital, because good business is simply good for business, and seriously needed in solving the world's wicked problems. And you as a business leader is crucial in this transformation. By growing vertically, providing purpose, direction and resources, you can contribute to meaning, purpose-led transformation, growth - and even help enhancing the wellbeing of both people and planet, while future proofing your business.
VERTICAL LEADERSHIP DEVELOPMENT 

Leaders on a higher level of vertical development have been proven to be considerably more successful in orchestrating organization-wide and systemic transformations, as well as coping with a VUCA world.  
The vertical development journey can simply be described as an evolution from a conventional to a post-conventional mindset.
With a post-conventional mindset you are able to hold many points of view; you are open to alternative perspectives; you see the whole system; you can anticipate change; and you can operate in conditions of ambiguity. And more.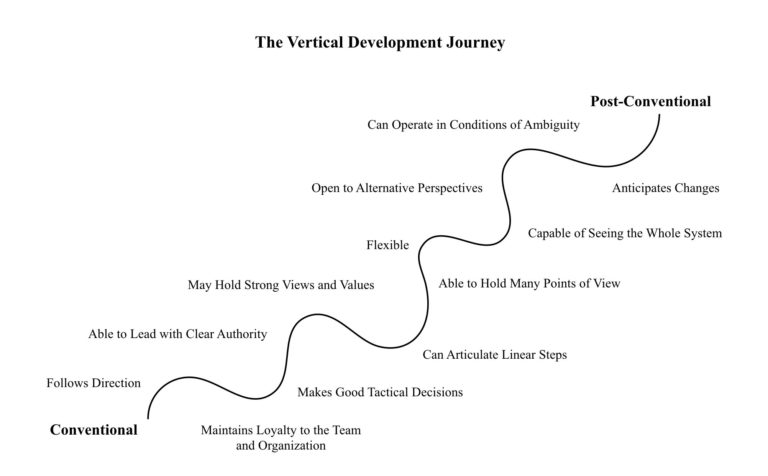 Image: Journal of Leadership Education (2020) 
Vertical Leadership Development is different to the more traditional horizontal leadership development that dominate the leadership development scene and narrative.
Horizontal leadership development - the more traditional approach - is characterized by skill building and adding competences, and on doing what we are already doing even better.
Vertical development is rather a personal evolutionary journey connecting mind and heart, resolving shadows and triggers, growing mindset agility, and growing the capacity to lead in a dynamic, complex and uncertain world. 

Table: Forbes (2020) and Journal of Leadership Education (2020)

TRANSFORMATIONAL COACHING
Our approach to Executive Coaching for Vertical Leadership Development is based on the StageSHIFT methodology. It not only helps creating better self-awareness and leadership capabilities, but helps developing leaders from the typical "Achievist" mindset of business-as-usual, via the "Catalyst" mindset, to that of the "Synergist", sometimes also called the "Transforming" mindset.
EXPAND INTO A SYNERGIST MINDSET
As a Synergist, leaders have the presence of mind and visionary zeal to transcend the turmoil, set new aspirations, inspire stakeholders, trust emergence and re-invent their organisation.

In a one-to-one coaching process we help you as a leader explore and elevate your perspectives, set your Aspirational Leadership Brand Declaration, explore your shadows, and support you in leading an impactful transformation of yourself and of your organization. 

Our Executive Coaching Program is designed in monthly (online) one-to-one coaching sessions lasting 90-120 minutes, and run across 12-24 months. It includes introspective work and practical applications in between sessions to give room for reflection and integration.
The process starts and ends with the StageSHIFT Vertical Holistic Leadership Profile (VHLP), which helps you follow your own vertical personal development over time. 
Your VHLP assessment will help you understand and explore your current stage in an organizational and leadership context, including your Strengths, Stressors, Blindspots and Stretches relative to your own vertical growth.
Your report includes your profile, a series of reflective questions, an explanation of each stage, and suggestions on how to expedite your vertical development between the different stages.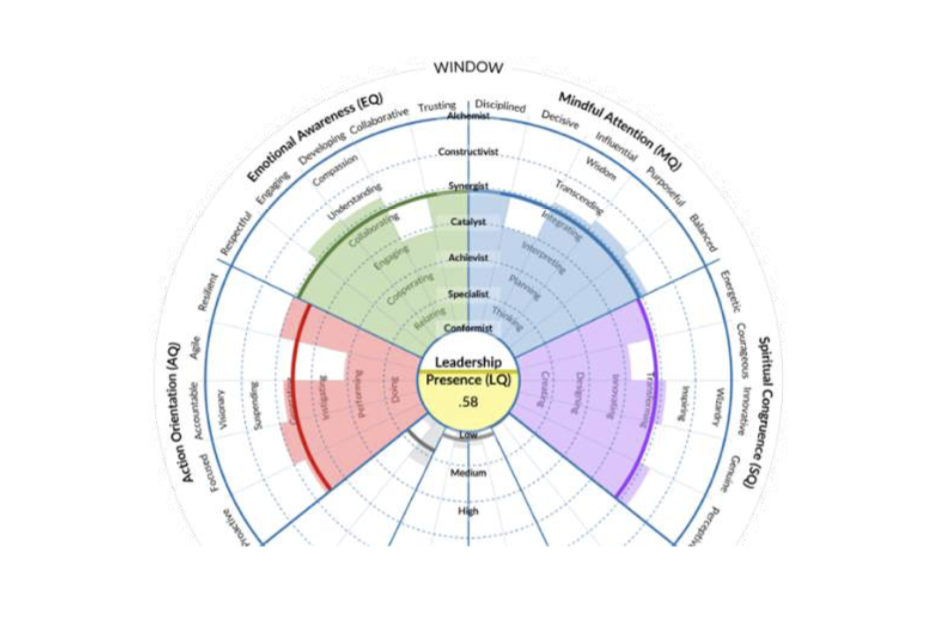 THE STAGE SHIFT APPROACH
The StageSHIFT approach for vertical leadership development and organizational evolution is a research based and proven fast track developed by Dr. Antoinette Braks. It is four times more effective in 10 percent of the time invested compared to other vertical leadership development methods.
Her book, Executive Coaching in Strategic Holistic Leadership: The Drivers and Dynamics of Vertical Development (2020), introduces executive coaches to developmental psychology and stage leadership development as a measure of coaching effectiveness.
We need wiser, bolder, purposeful, systemic Leaders.
Executive Coaches guide and support Executive Leaders.
We need more wiser, bolder, purposeful, systemic Coaches.
StageSHIFT offers a proven accelerated pathway enabling both.
Antoinette's New Zeeland based operations has today successfully trained dozens of executive coaches in a one year program, to co-create more sustainable, healthy, and equitable ecosystems where everyone can flourish. Elisabet Lagerstedt is one of those executive coaches trained directly by Antoinette.
StageSHIFT Coaching is a highly innovative and integrative approach to adult and leadership development that liberates the mind, spirit and heart to realize our unlimited human potential. StageSHIFT Coaching is also unique in its integration of vertical leadership development with organizational evolution and transformation. 
In her extensive coaching and organizational development practice, and research, Dr. Antoinette Braks found that, instead of the expected five years (vertical leadership development normally takes time), 80 percent of the strategic leaders in the StageSHIFT research project shifted one vertical stage in one year.
A StageSHIFT Coach adopts an explicit evidence-based transformative coaching approach. Transformative coaching is a quantum shift beyond developmental coaching. It involves asking leading questions as well as offering deeper insights and direct invitations to work with proven StageSHIFT techniques and frameworks.
On top of their previous extensive leadership, consulting and coaching experiences, StageSHIFT coaches have been through a 12-month training program in the StageSHIFT Coaching methodology.
To receive a certification, a StageSHIFT Coach moreover need to have their centre of gravity at the later stage of Synergist or Alchemist, which is held by less than 10 percent of the executive population. They therefore have the capacity to hold an expansive coaching space that enables strategic leaders to extend their depth of meaning-making and expedite their development.
Elisabet Lagerstedt is a Certified StageShift Coach, and a fellow of The Institute of Coaching.
Please get in touch to set up a free discovery call.