ELEVATE YOUR PERSPECTIVE
LEADERSHIP DEVELOPMENT FOR PURPOSE-LED TRANSFORMATIONS
To go where few have been require that you as a leader elevate your perspective - and envision the future that you want - for yourself and your organization. Contact us to explore how we help open-minded and forward-looking leaders on their paths - and in orchestrating purpose-led transformations.
OUR APPROACH
VERTICAL LEADERSHIP DEVELOPMENT
Have you heard about Vertical Leadership Development? It goes beyond traditional executive coaching methods and traditional leadership education - and focuses on expanding your mindset. You can learn more on Forbes, in Journal of Values Based Leadership, in Journal of Leadership Education, in Integral Review, and in Harvard Business Review.

Why it should be of interest to you? Leaders on a higher level of vertical development have been proven to be considerably more successful in orchestrating organization-wide transformations, as well as coping with a VUCA world. You could become one of those with the right coaching and support on the way. 
The vertical development journey can simply be described as an evolution from a conventional to a post-conventional mindset. With a post-conventional mindset you are able to hold many points of view; you are open to alternative perspectives; you see the whole system; you can anticipate change; and you can operate in conditions of ambiguity. And more.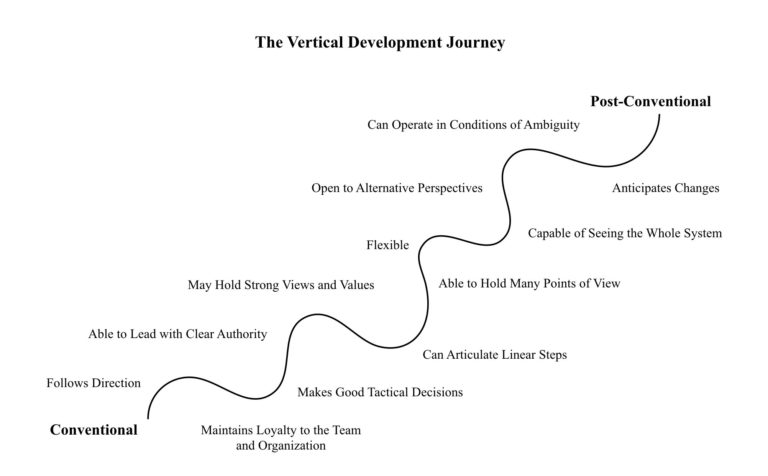 Image: Journal of Leadership Education (2020) 
Vertical Leadership Development is different to the more traditional horizontal leadership development that dominate the leadership development scene and narrative. Horizontal leadership development - the more traditional approach - is characterized by skill building and adding competences, and on doing what we are already doing even better. Vertical development is rather a personal evolutionary journey connecting mind and heart, resolving shadows and triggers, growing mindset agility, and growing the capacity to lead in a dynamic, complex and uncertain world. 

Table: Forbes (2020) and Journal of Leadership Education (2020)
We have found that Vertical Leadership Development is an important key to help open-minded and forward-thinking leaders elevate their perspectives, increase their positive impact, and move beyond business as usual. Ultimately to build a better business and a better future.
This is vital, because good business is simply good for business, and seriously needed in solving the world's wicked problems. And you as a business leader is crucial in this transformation. By growing vertically, providing purpose, direction and resources, you can contribute to meaning, purpose-led transformation, growth - and even help enhancing the wellbeing of both people and planet, while future proofing your business.


EXECUTIVE COACHING FOR TRANSFORMATION 

Our approach focuses on Executive Coaching for Vertical Leadership Development is based on the StageSHIFT methodology. It is tailored to help you develop to from an "Achievist" mindset, to that of a "Synergist" (sometimes called "Strategist"). It is also an integrated part of a purpose-led transformational journey for your team and organization, which we help you orchestrate as part of the process. 
As a Synergist, leaders have the presence of mind and visionary zeal to transcend the turmoil, set new aspirations, inspire stakeholders, trust emergence and re-invent their organisation.

In a one-to-one coaching process we help you as a leader explore and elevate your perspectives, set your Aspirational Leadership Brand Declaration, build a strategic scaffolding, explore your shadows, and support you in leading an impactful transformation of yourself and of your organization. This process can be combined with our virtual Co:Lab approach, where we help you facilitate and co-create the future together with your team.

Our Executive Coaching Program is designed in monthly (online) one-to-one coaching sessions lasting 90 minutes, and run across 12 months. It includes introspective work and practical applications in between sessions to give room for reflection and integration. The process starts and ends with the StageSHIFT Vertical Holistic Leadership Profile, which helps you follow your own vertical personal development over time. The profile will help you discover your individual Stage Spectrum and your unique Strengths, Stressors, Blindspots and Stretches relative to your own vertical growth. Your 30 page report includes your Profile, a series of reflective questions and a relatively extensive explanation of how to expedite your vertical development and particular steps you can take.

ABOUT THE STAGE SHIFT APPROACH 

The StageSHIFT executive coaching approach to Vertical Leadership Development is a research based and proven fast track originally developed by Dr. Antoinette Braks. It is four times more effective in 10 percent of the time invested compared to other vertical leadership development methods. It is a highly innovative and integrative approach to adult and leadership development that liberates the mind, spirit and heart to realize our unlimited human potential. StageSHIFT Coaching is also unique in its integration of vertical leadership development with enterprise evolution and transformation. 
In her extensive coaching and organizational development practice, and research, Dr. Antoinette Braks found that, instead of the expected five years (vertical leadership development normally takes time), 80 percent of the strategic leaders in the StageSHIFT research project shifted one vertical stage in one year. You can explore more about StageSHIFT coaching in a recent book by Dr. Antoinette Braks here, or in an article about the methodology in Integral Review. 

ABOUT STAGE SHIFT CHOACHES

StageSHIFT Coaches adopt an explicit evidence-based transformative coaching approach. Transformative coaching is a quantum shift beyond developmental coaching. It involves asking leading questions as well as offering deeper insights and direct invitations to work with proven StageSHIFT techniques and frameworks.
On top of their previous leadership, consulting and coaching experiences, StageSHIFT Coaches have been through a 12-month training program in the StageSHIFT Coaching methodology. To receive a certification, a StageSHIFT Coach moreover need to have their centre of gravity at the later stage of Synergist, which is held by less than 10 percent of the executive population. They therefore have the capacity to hold an expansive coaching space that enables strategic leaders to extend their depth of meaning-making and expedite their development.
Please contact Elisabet Lagerstedt, our StageSHIFT Coach, at elisabet.lagerstedt (@) future-navigators.com directly for more information. More about Elisabet Lagerstedt and her background and credentials can be found at the Institute of Coaching and at LinkedIn.
More coaches applying the StageSHIFT Coaching approach to Vertical Leadership Development can be found here.